Bacon Wrapped Roasted Turkey
cvasquez77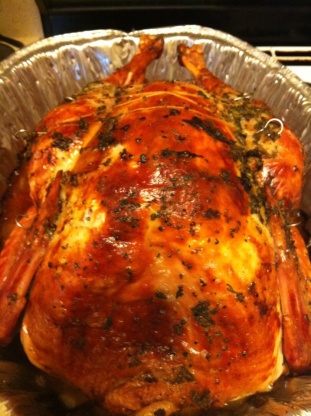 This recipe was shared with me by my wonderful boss who is an AMAZING chef! He helped make my 1st Thanksgiving one to remember by giving me this recipe. This Turkey is so moist and so easy to make!

This actually turned out REALLY good! I made my adjustments according to my preferences (like 'stuffing' the turkey with veggies, herbs, lemons) and instead of sage I always use lots of Herbs de Provence mixed in with the butter) then put the bacon on the key places. Kind-of followed the timing for removing the bacon- turned out beautifully! The bacon really does a great job of basting and adds a great flavor!
1

(13 lb) whole turkey (uncooked)
kitchen twine (to tie Turkey)
aluminum foil

2

cups butter (softened)
1 1⁄2 ounces fresh sage

1

lb bacon (uncooked)

1

onion
salt (to taste)
pepper (to taste)
Pre-heat oven to 325°F
Remove giblets and neck from Turkey. Rinse turkey with cold running water and drain well. Blot dry with paper towels.
Chop Onion and Garlic and mix together. Once chopped and mixed, stuff the Onion and Garlic mixture into Turkey.
Tie up the Turkey's wings, legs, and drumsticks with Kitchen Twine as desired.
Chop Sage and mix in with softened Butter.
Rub Sage/Butter mixture under the skin and over the skin of the Turkey.
Salt and pepper Turkey to taste.
Place uncooked, Bacon slices all over the skin of the uncooked Turkey. They will stick onto the buttered Turkey.
Insert an Oven-Safe Meat Thermometer into the inner thigh area near the breast of the Turkey but not touching the bone.
Place Turkey in a roasting pan and use Foil to tent the uncooked Turkey.
Remove foil tent for last hour of cooking Turkey.
Continue to let bacon cook on Turkey for an additional 15 minutes, then remove. (OPTIONAL - Bacon can then be chopped and placed in a separate dish of your choice).
Remove Turkey from oven once 160 degrees is reached internally in the Turkey.
Allow Turkey to rest for 20-30 minutes, then carve (during the rest period, Turkey will continue to cook to 165 degrees).