Bacon-Wrapped Jalapeno Poppers
Ashley Cuoco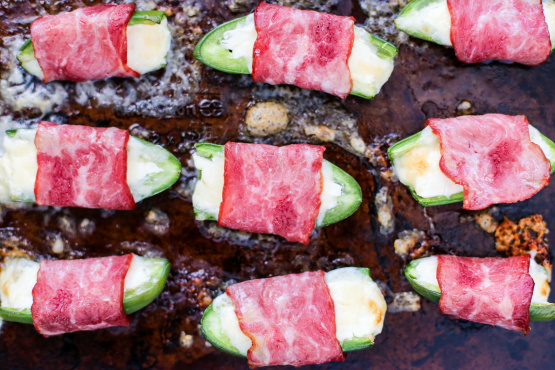 These bacon-wrapped jalapeno poppers are UNBELIEVABLY good! You'll love them!

Like you need another 5 star rating.... hahaha! Suffice it to say, everyone has been correct on this recipe. DEFINITELY set aside more time for prep on this one; 30 min. does not cut it. DO follow other reviewers directions; for instance: DO pre-cook the bacon halfway, as it will not crisp properly in the allotted cooking time otherwise. DO add chives or green onions to the cream cheese; it makes a difference! DO mix the cream cheese and cheddar, as the cheddar will melt out otherwise and be gone. DO leave ribs/seeds in if you want any heat at all, as these were so mild my "can't take the heat" daddy scarfed up several with no problems whatsoever. DO cook on a rack as they will be swimming in bacon/cheese grease otherwise. Grilling sounds like a great idea; will try that next time.... possibly freezing little torpedoes of cream/cheddar cheese to stuff jalapenos with as it would most likely melt out otherwise. THESE ARE SOOOO WORTH IT!!!
25

fresh jalapeno peppers

396.89-453.59

g cream cheese

473.18

ml shredded cheddar cheese

2

(907.18 g) package bacon
Cut stems off of peppers and cut them all in half longways.
Remove seeds from peppers.
Fill each pepper with cream cheese and sprinkle cheddar cheese on top.
Wrap 1/2 slice of bacon around each pepper half.
Place on baking sheets and place in 450 degree oven for 10 to 15 minutes or until bacon is fully cooked.
Remove and serve when cooled.
Enjoy!
Note:.
I always freeze them after they are made for about 20 minutes to a hour before putting them in the oven or on the grill . Doing this will keep the cheese from melting out as much .