Bacon Wrapped Grilled Chicken Sandwich
alligirl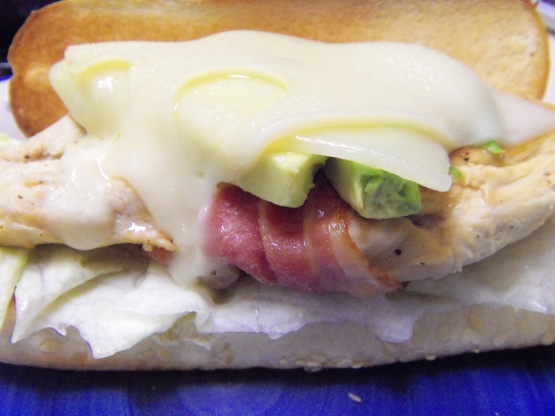 As a kid I'd marvel over a neighborhood friend's family having sandwich night every Friday evening. Not just any sandwich slapped on 2 pieces of bread, but at my young age, seemingly exotic combinations compared to our regular of rice and gravy. Well, as years flew by, I've come to appreciate 'speciality' sandwich combos that's easy on the cook and flavorful enough to qualify as 'dinner'.

Gailann, my dear, you are genius! Make me wish I'd grown up in a neighborhood where I could be inspired! LOL This sandwich was delectable. I must admit that I did not even like guacamole until my 20's (I had a friend who called it 'grasshopper guts' - go figure) and had never tried avocado on a sandwich before. You've now remedied that! I could taste the flavor of the citrus/garlic/pepper marinade, which provided a nice canvas for the bacon, swiss and avocado. YUM! I did use sub rolls, as I had them on hand. I will surely throw this into my summertime 'dinner solution' rotation. Thanks so much for sharing!
Marinate breast halves in lemon, lime juice, pepper and garlic salt unrefrigerated for about 1/2 hour.
Wrap chicken with two pieces of bacon, using toothpicks to hold bacon. Place breast halves on a hot grill and grill until chicken is done, turning frequently. When chicken is near done, place avocado slices on top of chicken then top with Swiss cheese. Grill just until cheese is melted. Remove chicken from grill and place on Texas toast or buns with toppings of choice.