Bacon Wrapped Chicken (Oamc)
gailanng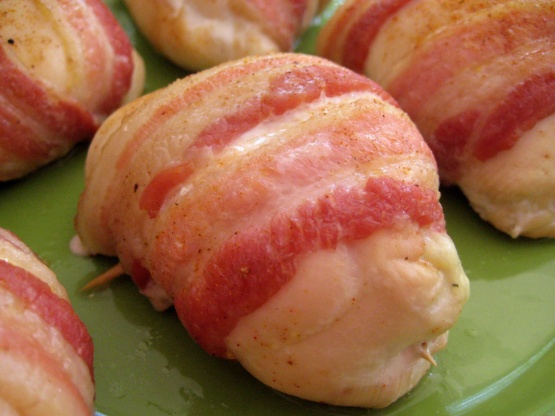 This is another great way to make something great ahead of time to thaw as needed or eat right now with little effort!

When I do my bacon wrapped chicken, I put it over a sauce made from one small jar dried chipped beef, finely diced, 2 cans cream of mushroom soup, one 16 ounce container of sour cream, salt and pepper. Put the sauce into the bottom of a sprayed 9X13 dish and lay the bacon wrapped chicken on top. I cook it in a 300 degree oven for about 2 hours ( or until internal chicken temp. reaches 170) The sauce cooks into the meat making it succulent and sooo flavorful. Served over rice, this dish is a family FAVORITE.
Flatten chicken to 1/2" thickness.
Spread 3 tablespoons cream cheese over each chicken piece.
Dot with butter and sprinkle with salt; roll up.
Wrap each with a bacon strip.
Place, seam side down, in a greased pan.
Bake, uncovered, at 400F for 35-40 minutes or until juices run clear.
Broil 6 inches from the heat for 5 minutes or until bacon is crisp.
If you are making these ahead for future use, freeze these uncooked on a cookie sheet in your freezer. When solid, wrap and put in a ziplock bag or vacuum seal desired quantities.
To cook from frozen state, thaw before cooking and follow directions above.