Bacon With Sriracha and Brown Sugar
lazyme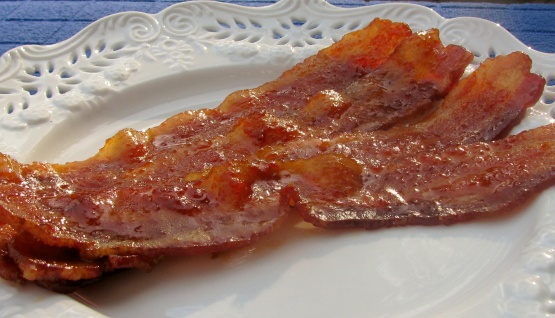 See my explanation for my new-found lusting for sriracha chili sauce here... Sriracha Mayonnaise . Sweet, salty and hot! (Serving Suggestion: Crumble over salads.)

Top Review by lazyme
TDF!!! I only made 4 slices to begin with just for me. Then my grandson and a couple of his friends showed up. Bad news, lol. They ate all of it and loved it! Then I made another batch thinking that I would be alone that night. Wrong again, lol! And so....made a 3rd batch the next day. I was able to hide a couple of pieces to use in recipe #430880 which took this awesome dip to a higher level!!
Oh gosh GailAnn, I now understand your love of sriracha! I'm searching and saving recipes as we speak!! Thanks so much for a simple awesome recipe that makes me look like a star! This will indeed be included in my Best of 2011 CB. Made for Best of 2010 Tag.
Preheat oven to 350 degrees. On a foil lined baking sheet arrange the eight strips of bacon in a single layer. Squeeze a thin ribbon of Sriracha down the center of each strip of bacon. Use a pastry brush to spread and coat the entire top surface of the bacon with the hot sauce.
Sprinkle the top of each piece of bacon with a generous portion of brown sugar (don't skimp). Place in the oven and cook to your desired bacon doneness, about 20 to 25 minutes. The crispier, the better. Place on paper napkins to drain.