Kathy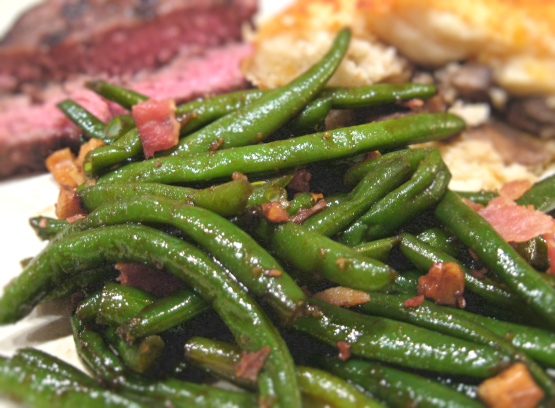 A delicious side dish that is simple to make and full of wonderful flavor. I hope you enjoy.

Really yummy recipe. I made it for a Mother's Day party and it was a big hit. I used thawed frozen whole green beans and it turned out great. I think I'll be going back to this recipe again and again.. Thanks!
Place beans in large saucepan and cover with water.
Bring to a boil; cook, uncovered, for 8-10 minutes or until crisp-tender.
Meanwhile, melt butter in large skillet over low to medium heat.
Saute garlic for a couple of minutes until tender being careful not to burn; add the thyme.
Stir in the brown sugar, soy sauce and Worcestershire sauce.
Cook for a couple of minutes until sugar is dissolved.
Drain beans; add to the skillet.
Cook and stir for 2 minutes or unitl heated through.
Sprinkle with the bacon and walnuts; toss to coat.