Prep 15 mins
Cook 20 mins

Anyone who likes bacon and waffles should definatly like these!
Directions
cook bacon until crisp, drain and crumble.
plug in electric waffle iron to preheat.
Combine flour, sugar, baking powder and salt in a large bowl,whisk together to blend.
Pour milk in a glass measuring cup and microwave for 1 minute at full power to heat slightly. Pour into medium bowl, whisk in melted butter and eggs. Add liquid ingredients to flour mixture, whisking just until blended.
Grease waffle iron with cooking spray. Spread about 1/3 cup batter over each iron and sprinkle 1/8 of bacon on top. Close wafle iron and cook until done. Repeat with remaining batter and bacon.
Serve with warm syrup.
Reviews
Most Helpful
Fantastic and easy to make ... My first effort making walffes from scratch. For a little fall flavor, added nutmeg or pumpkin spice to a few of the walffes as pouring batter on the walffel iron.
These were absolutely delicious and a great waffle recipe for my first time making them! The waffles are light and soft and have that perfect combination of sweet and salty with bacon and maple syrup. We loved this dish so much!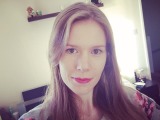 Yum! I saw your recipe and decided to have breakfast for dinner. I followed your directions and sprinkled the bacon on top of the batter for the first two waffles. Then I wanted to try adding grated cheddar to the mix, so stirred in the remaining bacon and about 3/4 cup of cheese into the batter. That worked great too. My DH drenched his waffles in syrup and swooned over his dinner. I topped my waffles with Mexican Chili Butter Mexican Chili Butter (in the photo) and loved that. I had waffles left so froze them for later use. This is a definite repeat. Thank you for sharing your recipe!