Bacon, Tomato & Spinach Pizza
Prep 15 mins
Cook 20 mins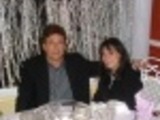 This is not only economical, it is quick and tasty too!
Directions
Preheat oven to 425 degrees. Coat a 12-inch pizza pan with cooking spray. Press dough onto pan.
Spread Alfredo sauce over dough, leaving a half-inch border. Sprinkle with 1/2 cup cheese. Top with spinach, tomatoes, and bacon; sprinkle with remaining 1/2 cup cheese.
Bake until heated through and cheese is melted and lightly browned, 15-18 minutes.
Most Helpful
Loved it! I used fresh Spinach and thought my hubby would turn up nose when seeing green. He really liked it...Great pizza, made for PAC Spring 2012.
I ate too much! I used less sauce based on other reviewers saying there was too much....I didn't notice it, and think I should have used a bit more....maybe 3/4 cup. I used fresh spinach instead of frozen and just eyeballed the amount. Also I used more cheese, and 5 slices of bacon, but it was thin sliced. I used campari tomatoes, and this was delicious! Again....I ate too much.

This was yummy! I followed exactly, using light alfredo sauce and low-fat cheese. It had such great flavor - different too! I think next time I will use less sauce... it got a little messy! BUT GOOD! Thanks for sharing!