Bacon-Tomato-Gruyere Omelet
ImPat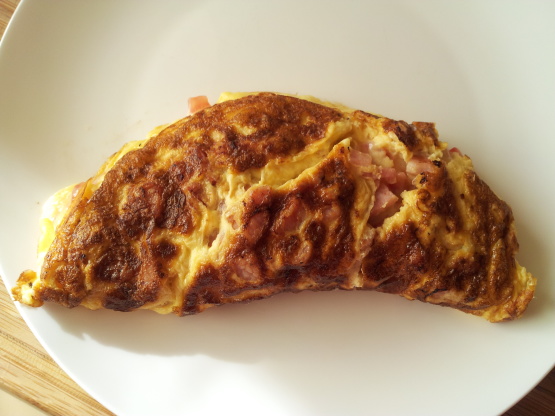 From "The Good Enough to Eat Breakfast Cookbook" by Carrie Levin. This sounds good, but I'd probably add a few herbs to it too.

Top Review by ImPat
I made 2 omelets this morning, one for me and one for the DH and we both thoroughly enjoyed this very filling and delicious breakfast, served with a slice buttered toast I could only just get through mine. Thank you lazyme, made for Went to Market tag game.
2

teaspoons clarified butter

1

ounce cooked bacon, 1 1/2 slices, cut into 1/2-inch pieces

3

eggs

1

ounce grated gruyere cheese, 1/4 cup, don't pack it down

1

ounce plum tomato, 1/2 small tomato, seeded, cut into 1/4-inch cubes
After the butter is good and hot in the pan, scatter in the bacon.
Shake the pan once to make sure the bacon is not sticking.
Now pour in the beaten eggs.
Tilt and pull a couple of times and sprinkle in the cheese, keeping it well in the eggs.
Pull a couple more times to cook to desired doneness.
Scatter in the tomato pieces, avoiding the edge of the pan.
Immediately (almost!) de-pan the omelet, flipping it into a half circle on your warmed plate.
Note:.
The tomatoes will be sufficiently warmed being folded into the omelet at the end of the process and shouldn't be cooked so much as to release their water. Water in the pan will cause sticking.