Bacon, Tomato, Camembert Sandwich - Smorrebrod
ImPat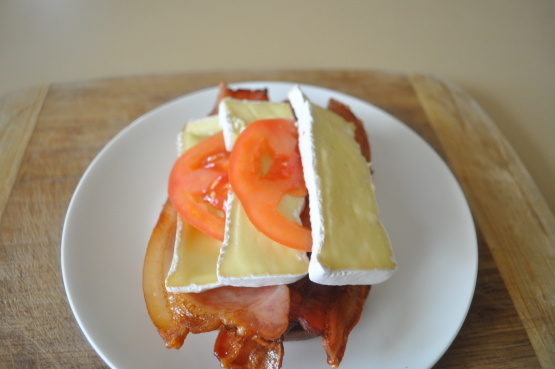 Smørrebrød - Open-Faced Sandwiches From Best of Scandinavian Cooking. Posted for ZWT6. To make smorrebrod, cut crusts from slices of pumpernickel or rye bread, but not French bread, when using them for a base. Be careful to spread soft butter entirely over the piece of bread you use. This keeps moist ingredients from seeping through and making the bread soggy. Ingredients should be artfully arranged. Sandwith will be eaten with a knife and fork.

Top Review by ImPat
The DM and I each really enjoyed this wonderfully filling and tasty sandwich for lunch. I used an organic, 98% fat free, low GI Rye bread, smoky bacon (cooked in the oven), a lovely creamy camembert and a juice vine ripened tomatoe, thank you Dreamer in Ontario, made for Newest ZAAR Stars.
Spread bread with soft butter.
Cover with severaly layers of very crisp bacon slices.
Top with alternating rows of thin tomato slices and slices of ripe Camambert cheese.