Bergy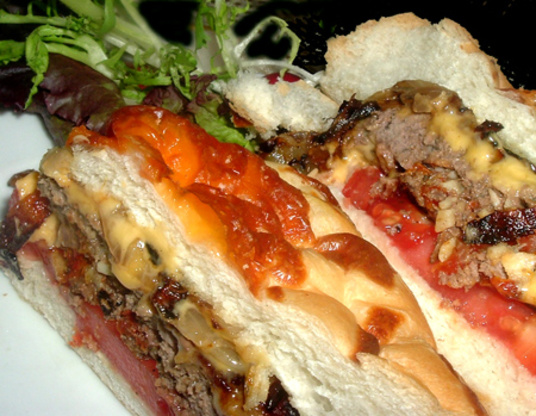 I searched Zaar and could not find a duplicate to this delicious sounding burger. The original recipe is from a recent Chatelaine magazine that featured burgers I have tweaked it a bit. The condiments you add (onion, tomato, mushrooms) are up to you. Some like Mayo, relish or dill pickles the choice is yours BBQ over medium heat 5-8 minutes per side or pan fry. To prevent the burger from puffing up use your thumb and make a shallow depression in the center of the burger. Hope you will try it too.

We loved this burger, it is absolutely delicious. I didn't add a lot of "toppings" because I wanted to taste the dried tomatoes, garlic and bacon inside the burger = YUM. My toppings were mustard and ketchup and I kept saying "OMG, this is so good" while eating. Thanks Bergy for a keeper!
Gently mix the beef, sun dried tomato, bacon, garlic, salt, pepper & worchestershire sauce together.
The more you handle the burger the tougher you burger will be so just mix lightly.
Form into 4 patties (I usually only make 3 from one lb).
Either BBQ or pan fry.
BBQ: Medium heat, Oil the grill 5-8 minutes each side.
Pan fry: medium heat cover burgers apprx 5 minutes each side. Reduce heat to medium low if the burgers are browning too fast.
Garnish with your choice of condiments.