Bacon Surprise Cupcakes With Maple Frosting
Rita1652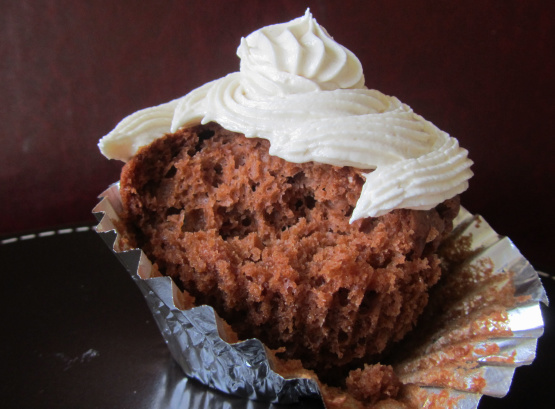 Felt like I was in Competing in Cupcake Wars! The ingredients from Dining on a Dollar Recipe Contest -- Spring 2013 made it tricky to create a dessert. Must say I nailed it! Tender, soft crumb with hint of bacon and topped with Maple frosting complement each other perfectly. The budget ingredient ketchup and applesauce gave the cupcakes a sweetness and added moisture. A MUST MAKE! You won't be disappointed.

I had been wanting to try these for a while now. I omitted the cocoa, had none, and had to use a boxed white cake. I didn't realize it was vanilla flavored cake until all was mixed and I will not make that mistake again. I enjoyed the flavor of the cakes (minus the vanilla flavor) and didn't have a problem with them being dry. May be because I hate waste and I had a bit more applesauce in the fridge than what the recipe called for so I dumped it in. There was one thing that wasn't too pleasing and that was the little chunks of bacon. I chopped them quite small but they were still little hard pieces that you had to chew. That can be solved quite easily though. Thank you so much for the recipe!
In a large bowl blend ketchup, applesauce, cocoa powder, oil or bacon drippings and eggs mixing well.
Add cake mix and bacon crumbles whisk for 2 minutes.
Place into foil lined cup cake pan.
Bake for 18-20 minutes.
Remove from oven and cool.
Meanwhile beat syrup and butter together 1 minutes till light and fluffy. Add vanilla, salt and sugar and beat an other 2 minutes.
Pipe or spread frosting on the cupcakes.
Now watch everyone enjoy while they figure the ingredients.
If you want to give a hint garnish with some extra bacon pieces.