ddearls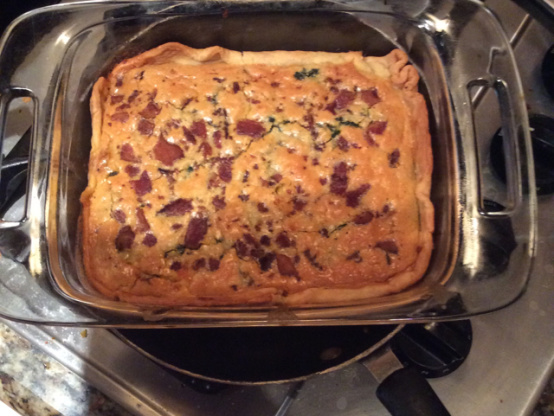 I like to have this sometimes on Sunday for brunch when I want something a little eggy/cheesy. Usually I serve it with a light crisp green salad with some sort of vinaigrette. Other times, usually in summer, I will cut up some fresh fruit, like cantaloupe and pieces of watermelon and strawberries and serve with. It makes a nice light meal. This particular recipe is from Barbara Jones.
Merry Quichemas! This was breakfast in bed for the wife. Awesome and simple to make. Great instructions. Used my own pie crust recipe. Also did the onion saute thing suggested by others. Everything came out great. No soggy crust. I like quiches to be more eggy, but the flavors were so perfect together, I won't even tweak this recipe. And the wife loved it as much as I did. Do real men eat quiche? Yes, and they'll bake it for their wife too. Thanks for this recipe.
Rub softened butter on the inside surface of pie shell.
Drain spinach; squeeze out as much liquid as you can.
Place spinach in pie shell and top with crumbled bacon.
Whisk together cream, eggs, cheese, salt, and nutmeg.
Pour mixture into pie shell.
Bake quiche at 425 F for 10 minutes, then reduce heat to 325 F and bake for an additional 35-40 minutes or until quiche is set.