Bacon Spinach Asiago Quiche
katew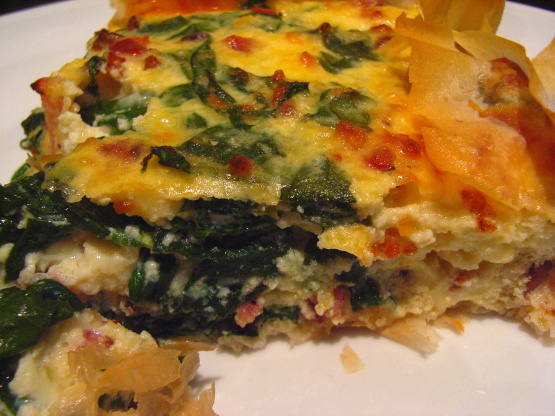 This is the quiche recipe that I created for RSC #11. It starts off with a homemade crust and then is filled with a delighful combination of eggs, bacon, spinach, asiago and cheddar cheeses, shallots or green onions and sun dried tomatoes.

Top Review by katew
Absolute 5 star quiche ! I put the filling into a phyllo pastry case as I had phyllo in the fridge. My spinach was fresh and my cheese was cheddar. We all loved it so much.
For the crust: Mix flour, shortening and salt together with a fork until crumbly. Add water a little at a time until the dough holds together. Mix lightly with fork. Be careful not to over mix the dough or it will come out tough instead of flaky.
Place ball of dough onto a lightly floured surface and roll out to fit a 9" pie pan. Loosely roll the dough onto your rolling pin and place dough in pie pan. Push dough into the pie pan and trim off any excess dough. Finish edges with a fork or by crimping the edges with your fingers.
For the filling: In a large bowl whisk together eggs and milk. Mix in the asiago cheese and 1/2 cup of the cheddar cheese. Add bacon, shallots, sun dried tomatoes, salt, and cayenne pepper. Squeeze out the excess liquid from the spinach and add to the egg mixture. Mix everything together until it is well blended.
Pour into prepared pie crust shell. Sprinkle with the remaining 1/4 cup of shredded cheddar cheese. Bake at 400 degrees F for 40 minutes or until a knife inserted about 2 inches from the edge comes out clean.