Rita1652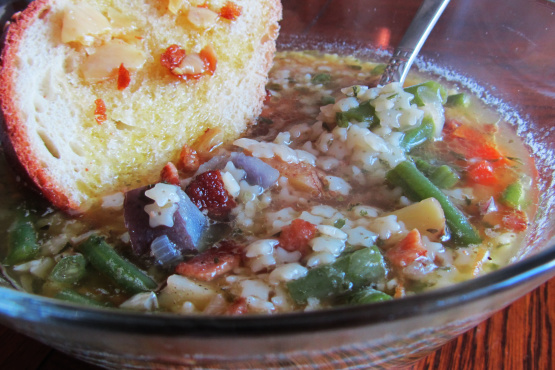 dinner is ready for 15 mins,so easy...perfect on this cold weather

This recipe does need a tender touch! First you need to saute the onions first then the garlic in bacon fat. Garlic would burn and make the soup bitter. I did use this Recipe #107440 for cooking the bacon using organic bacon! I used frozen green beans not a fan of canned unless I canned my fresh grown and picked from my garden. Used my green herb mix Recipe #396007 in place of the salt and Italian seasoning. I did add the potatoes (purple, red and white) to the onions along with the diced carrots so it would be cooked as the recipe didn`t state cooked veggies just put them in and serve. Then the recipe is to serve 4 so I upped the broth from 1 cup to (home made with organic grass fed beef broth) 4-5 cups. I then simmered the veggies in the broth till tender. I did pre cook the Stelline pasta then added to the soup. Because I knew one cup dried (what recipe called for) would have made this so thick it would not have been soup! Using 6 ounces of pasta which is 3 servings. I did serve with roasted garlic bread and garnished with crisp bacon pieces. I must say this was 5 stars as I made it. But if an inexperineced chef tries to follow this recipe there would be questions. So Mrs Huffman do make corrections so everyone can enjoy it as much as I did! Thank you! I did make this for http://www.food.com/bb/viewtopic.zsp?t=388806&postdays=0&postorder=asc&start=0<br/>Pick a Chef 2013.
1.chop or scramble the bacon into small pieces,set aside.
2.heat the olive oil in skillet,add garlic and wait until its golden brown.
3.add the chopped onion and bacon,stir.
4.season with italian seasoning,add potatoes(sliced in stick), parsley,and broth.lets boil then add the small pasta or pastina(italian pasta is good).
5.simmer for 10 mins then add the carrot and beans,season with salt and serve with garlic bread/toasted bread or baguet,italian bread.