lazyme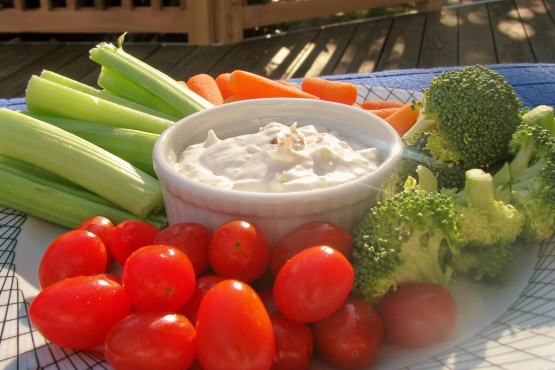 A recipe from Taste of Home - Guilt Free Cooking cookbook. This is so yummy. My son enjoyed it.

First, I didn't refrigerate this, and now enjoying this during the football game, on cable.Having this with regular corn chips as a snack with the dip. Real fast, and easy to make, The bacon flavor is great too.. Going to take the leftovers,cover, and refrigerate it, and have them for a little snack tommorow with the kids. Tagged and made for Holiday Tag..
1⁄2 cup reduced-fat mayonnaise
1⁄2 cup reduced-fat ranch salad dressing (I used Renee buttermilk ranch dressing)
1⁄2 cup nonfat sour cream
1⁄2 cup parmesan cheese, shredded
1⁄4 cup cooked bacon, crumbled
assorted fresh vegetable
In a bowl, combine the mayonnaise, salad dressing, sour cream, parmesan cheese and bacon; mix well. Cover and refrigerate for at least 1 hour before serving. (I didn't wait, cause we wanted it NOW).
Serve with assorted fresh vegetables.