Bacon, Pepper and Potato Frittata
Lvs2Cook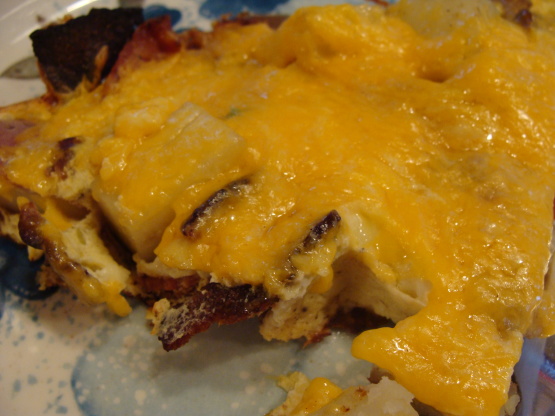 My husband and I have an omelet or frittata for dinner a lot, this was good. It's easy to prepare.

My Husband and I enjoyed this recipe. It was my first frittata and it was delicious. I omitted the green pepper and mushroom and used cheddar cheese. It was crusty and the potatoes were tender. I will be making it again. Thank you for the recipe.
In a non-stick skillet sauté the bacon until almost crisp.
Drain the bacon grease. Add the green onions, red pepper, and mushrooms.
Sauté and stir for approximately 1 minute.
Add the potato and season with salt and pepper.
In a separate bowl beat the eggs with the milk.
Pour the mixture into the pan and top with grated cheese.
DO NOT stir.
Cover with a lid and cook on medium low for approximately 20 minutes.
Serve in wedges topped with a teaspoon of you favorite salsa.