Bacon 'n Cheddar Bubble Bread
lets.eat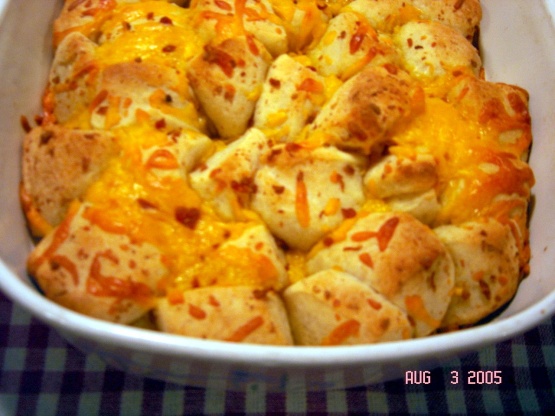 This bread is fun to make as it is to eat. My DS likes to make this for Sunday dinner. He found it in a kids learn to cook cookbook.

I had a friend over for dinner last night and I meant to get bread started earlier in the day but completely forgot. I then remembered that I had "tagged" this recipe and was thrilled to have a easy, quick and great tasting bread to go with supper! I doubled the recipe, used real bacon crumbles from a sealed bag instead of bits and probably added a bit more cheese than the recipe called for. This was delicious! It smelled like breakfast coming out of the oven. I baked mine in a fluted bundt pan and it pulled apart nice and easy. Watch your timer because it gets brown fairly quick! Mine was well done by the 20 minute mark! Delicious!
Preheat oven to 375°F Lightly spray a oven proof bowl or small pan with vegetable oil.
On cutting board, separate dough into 8 rolls. Using kitchen shears, cut into quarters.
Mix finely shredded cheese and bacon bits, then toss cheese mixture with dough till lightly coated and place into oiled bowl or pan.
Then bake for 20-30 minutes or till top is a deep golden brown.
Remove from oven and run a knife around edge of bread to loosen. Lift bread out onto serving plate.
To serve pull apart pieces of rolls from bread loaf.