gailanng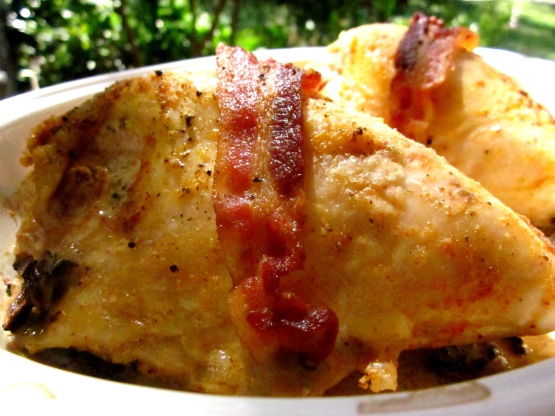 Very easy to put together, and the result is fabulous. Make sure to serve mashed potatoes or rice along side of this, to mop up the great tasting sauce!

I have to say I saw this recipe and could not wait to try it. This recipe is unbelievably simple and the combination of flavors are fantastic. I did add alot more mushrooms and I was so glad I did as the mushrooms roasted in the drippings and the taste was incredible. DH fell in love with this one as did I. Thanks for sharing Mark! Good job!
Preheat oven to 350.
Pour melted butter into a 9x13-in baking dish.
Add chicken, skin side down, sprinkle with seasoning salt and garlic.
Turn chicken over, season and lay bacon strips on top.
(If using 4 breast halves, cut bacon pieces in half.) Sprinkle with mushrooms.
Bake in the preheated oven for 45-60 minutes, or until chicken is no longer pink and juices run clear.
Remove chicken, bacon and mushrooms to a platter and keep warm.
Pour juices from baking dish into a small saucepan and whisk together with cream over low heat until thickened.
Pour sauce over chicken and serve warm.