Bacon Lettuce Tomato (And More) Salad With Blue Cheese Dressing
Diana 2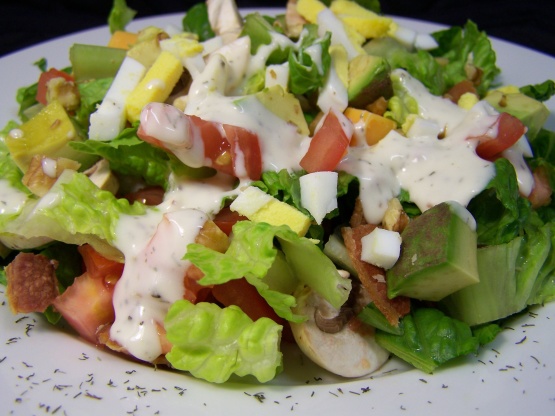 Second place winner in the 2009 Craze-E Contest. Part BLT, part cobb salad, this meal in a bowl combines the best of both. I almost called it Blobb Salad or CobBLT, but neither sounded very appetizing--LOL!

I really liked this recipe. The use of the contest ingredients was great, and it tasted really good together. Bacon and tomato are a can't miss combination. My only complaint is that I don't think there's enough onion in it. I ended up adding about twice as much. But, I just really love onions.
Mix yogurt, mayonnaise, dill, salt, pepper, and garlic powder in a bowl. Crumble in blue cheese and mash with a fork, stirring until thick and creamy, but still chunky.
Place lettuce in a large bowl and add bacon, mushrooms, cheddar cheese, red onion, and nuts (if using). Toss briefly just to combine ingredients.
Add tomatoes and avocado. Gently and briefly toss.
Scoop salad into individual serving bowls. Top each with eggs and then salad dressing.