Bacon, Lettuce and Tomato Soup
mianbao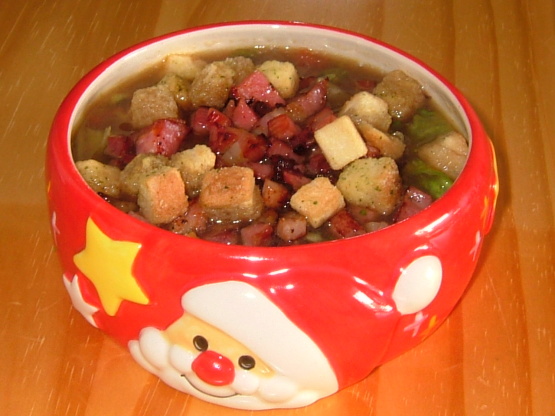 Salad in a bowl, but liquid and hot.

This is nice. I did use homemade stock instead of bouillon cubes, because I am being careful of salt content. I also used fresh garlic and parsley. My bacon wasn't sliced, so I chopped it fine. My only question about this recipe is the 20 to 25 minutes simmering time. I did simmer my soup for 20 minutes on the lowest setting of my range, but quite a lot of liquid evaporated and I had to add more water. Thank you for an interesting recipe. I'll be using it again.
Dissolve bouillon cubes in water; set aside.
Cook bacon in a large Dutch oven until crisp; remove bacon, reserving 2 tbs.
drippings in Dutch oven.
Drain bacon on paper towels.
Add onion and celery to drippings, and saute until transparent, stirring frequently; drain.
Add bouillon, tomatoes, and next 6 ingredients; bring to a boil.
Reduce heat, and simmer, uncovered, 20-25 min.
Add lettuce, and cook 2 min or until lettuce wilts.
Top with bacon and croutons.
Serve immediately.
Yield: 5 cups.