Bacon Lattice Tomato Muffins #RSC
BDMK8003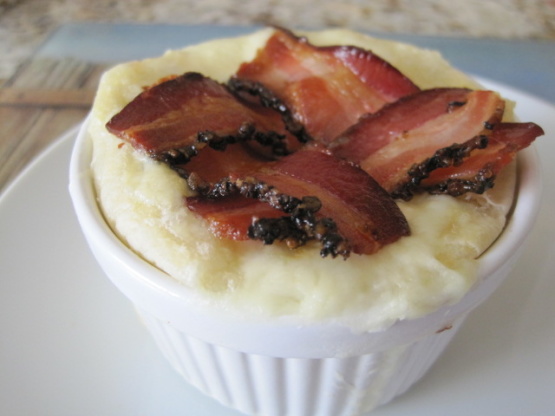 "Ready, Set, Cook! Contest Entry." Bacon lattice and cheese topped flaky biscuits filled with fresh chopped tomatoes and onions in a seasoned cream cheese and mayonnaise mixture. This recipe is not only eye appealing but also adds a lot of flavor to your taste buds!

I baked them just as the recipe said. My four year old daughter tried it and ...now loves Tomato Muffins ! in the past She don't like vegetables, but now Tomato Muffins ? Thank you very much, very nice idea, will make again!
Preheat oven to 400°F Line a rimmed baking sheet with Reynolds Wrap® Foil. Spray lightly with non-stick spray or use non-stick Reynolds Wrap® Foil.
Cut bacon into 3" pieces. Make 8 bacon lattices about 3.5" square. Arrange lattices on foil so they don't touch. Bake 8 - 10 minutes until browned. Remove to paper towel to blot grease. Reduce oven temp to 350°F.
Press biscuits into a muffin pan to form 8 cups or use 3.5" oven proof ramekins. In a medium bowl, mix mayonnaise, cream cheese, rosemary, salt, and pepper. Mix in tomatoes and onions.
Spoon mixture evenly into the 8 biscuit cups. Top with cheese. Wrap each loosely with classic Reynolds Wrap® Foil without touching the cheese. Bake 30 minutes.
Remove foil and center a bacon lattice on top of each. Bake another 3-5 minutes until bacon sizzles. Remove from oven and allow to set 5 minutes.