Nimz1466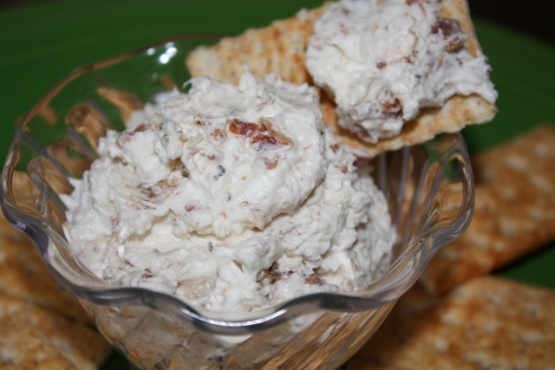 A co-worker brought this dip to a food day we always hold for office birthdays. I took one bite and was hooked! It is extremely simple, but absolutely addicting. I made it one time and went through the entire tub in a single evening.

Excellent dip! I doubled the recipe to take to school and everyone loved it! I used whipped cream cheese, Hormel Real Bacon Bits and hot cream horseradish. I increased both the bacon and horseradish. Served with a variety of crackers and it was gobbled up quickly. Thanks for sharing! ***Made for Fall PAC 2011***
Let cream cheese soften a bit, then mix cream cheese, bacon bits, horseradish, and sour cream in mixing bowl. It's best if it's mixed very well - I use my hands just to make sure.
I also like it with lots of bacon and horseradish, so use your own judgement when adding.
Place mixture in a serving bowl or back in the cream cheese tub, and let sit in your refrigerator overnight.
Serve with Wheat Thins (my personal favorite), Ritz crackers, Triscuits, or any other snack cracker. Watch in amazement as your friends, family, or co-workers shove each other aside to get the last little bit from the bottom of the bowl!