Bacon, Gruyère, and Scallion Muffins
WiGal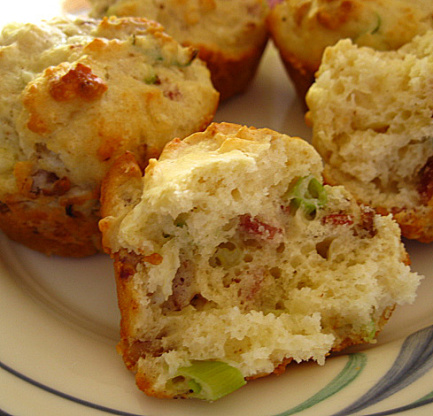 From Gourmet magazine, November 1994. Savory muffin good served with soup. Best when eaten fresh out of the oven.

Excellent muffins and a nice combination of flavors. I only made half of the recipe and was able to successfully make them gluten free. I used Swiss cheese instead of Gruyere since I had some in the fridge. Since I made these on a whim I also didn't have any fresh bacon to use so I used real bacon bits and butter to replace the bacon fat. Will definitely make these again and use the bacon fat. Thanks for posting this swissms! Made for 1~2~3 Hits.
Preheat oven to 425°F and butter twelve 1/3-cup muffin tins.
In a skillet cook bacon over moderately low heat until crisp and transfer to paper towels to drain, reserving 1/4 cup bacon fat. Crumble bacon.
In a bowl whisk together flour, baking powder, sugar, salt, Gruyère, scallion, and bacon. In a small bowl whisk together milk, egg, mustard, and reserved bacon fat. Add milk mixture to flour mixture, stirring until just combined (do not overmix).
Divide batter evenly among muffin tins and bake in middle of oven 15 to 20 minutes, or until golden and a tester comes out clean.