diner524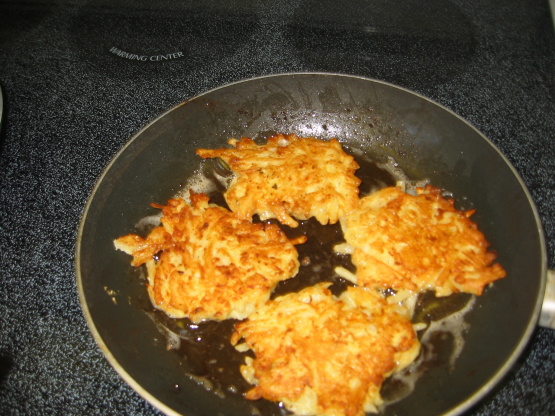 Floddies are traditional to the English town of Gateshead. Serve them with sausages and eggs as a breakfast or supper dish, or serve them on their own if you prefer.

I made these for breakfast this morning and they were good. But, they were a bit dry. Next time I make them (and they were good enough to make them a next time) I will increase the eggs and perhaps decrease the flour by 2T. They were really quite tasty though.
Shred the potatoes, squeeze out any liquid and place in a bowl.
Shred or finely chop the onions and add to the potatoes with the bacon, flour and seasoning.
Mix very well together.
Stir in the eggs.
Heat the oil or bacon fat in a large frying pan.
Put tablespoons of the mixture into the pan and fry steadily for 5-8 minutes, turning once, until golden brown and cooked through.
Drain on kitchen paper and keep hot until ready to serve with sausages and eggs.