Bacon Flavored Doggie Treats
teresas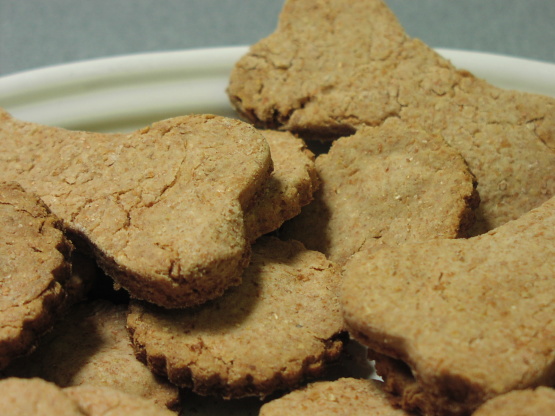 A K-9 Favorite!!! With a hint of garlic...helps keep fleas & tics away.

These sure smelled good while they were cooking. I did cut the recipe in half and it worked great. I got 20 bone shaped treats and 20 small round one. I like the fact that these can be frozen. Both of my doggies enjoyed them. I wasn't to sure about the bacon fat, was it to be melted or left solid. I chose to leave solid like shortening or butter. Worked great. Made for "My 3 Chef's" 2008
Pre-heat oven 350 degrees.
Grease cookie sheet with some of the bacon fat from ingredient list.
Mix all remaining ingredients in large miking bowl.
Roll out flat and use desired cookie cutter shape. Use additional flour to prevent sticking to surfaces.
Bake 35-40 minutes.
Cook on wire rack.
Store in airtight container.
Stores at room temp for 1 week. Refrigerate up to 1 month. Freeze up to 6 months.