Bacon Club Macaroni Salad
CoffeeB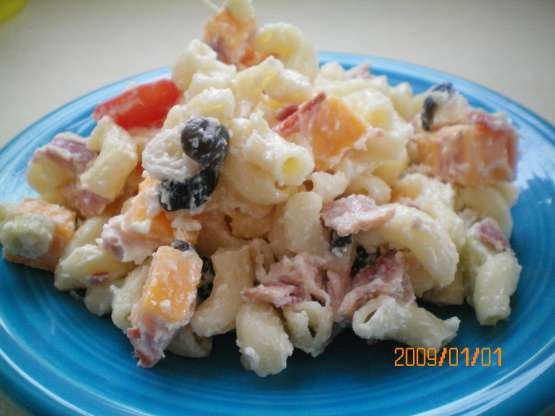 Cooked cubed ham can be used in place of bacon if desired. Cooking time does not include boiling the pasta. This complete recipe may be doubled.

My entire family LOVED this recipe. My mother-in-law even said it's better than her own. Everyone wants the recipe.
Cook the macaroni until firm-tender; drain well.
In a bowl, combine the oil and vinegar.
Add in the bacon, cheese, celery, green onion, olives and the cooked macaroni; toss well to combine.
In another bowl, combine mayo, cream, horseradish, salt and pepper.
Blend in with the macaroni mixture; toss well to combine thoroughly.
Chill in the fridge for 3 hours before using.
Note: if desired 1-2 hard-boiled eggs may be chopped and added.