Bacon Cider Sautéed Collard Greens/Honey Mustard Drizzle
Prep 15 mins
Cook 15 mins

This recipe was part of a cooking lesson done on the demonstration stage at the Taste of Chicago last July. It's the creation of Chef David Blackmon of Blu 47 restaurant, in Chicago of course!
Directions
Boil 4 quarts of water in a large pot. Chop 12 slices of bacon into bits; place the bits in a stainless steel skillet; slowly brown while rendering fat. When bacon is brown, remove bacon from skillet (saving the bacon fat); set aside.
Roll up bunches of collard greens cigar-style and slice into 1/4-inch slices.
Place sliced greens in boiling water. Return skillet with bacon fat to heat; add thinly sliced onions; sauté for 1 minute.
Using tongs, remove greens from water and place in skillet.
Add black pepper and apple cider vinegar; cook for 5 minutes.
Garnish with bacon bits.
Honey mustard drizzle: Whisk together all ingredients in a bowl. Drizzle over greens.
Most Helpful
I followed this to a "t" and it turned out amazing! I tried the greens without the dressing and they were pretty good (perhaps they could use a little salt when served on their own.) With the dressing, however, they were outstanding. A perfect balance of savory, sweet, sour and earthy.
Delicious! I don't know how previous reviewers could have done this justice, when they didn't even cook the collards according to your recipe (!). I did, and they were delicious. I didn't make the sauce, but the greens were awesome without it. The cider vinegar kicks butt!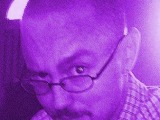 I didn't make the honey mustard sauce. Because I didn't know what time my husband would be home for supper, I decided not to boil the greens ahead, but I added them to the bacon onion cider mixture with about 1 1/2 cups of chicken broth and let it simmer on low for quite a while. Absolutely delicious! The bacon and apple cider really compliment each other.