Bacon Cheeseburgers With French Onion Dip
Kim127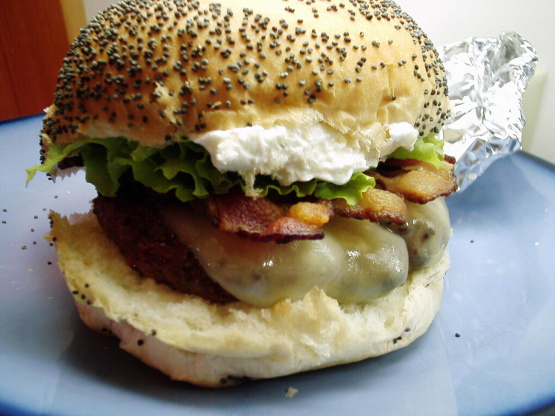 My husband and I were a bit skeptical when we first saw this recipe, but we tried it and were amazed. The flavors blend together into something so yummy, you'll wonder why you didn't put these ingredients together to begin with! You could also top these with the usual toppings, like ketchup, mustard, pickles, tomatoes, onions, etc., but I don't think they really need any of those ingredients myself! These are also great with ground venison, but to make with venison, mix a beaten egg and about 1/4 cup finely minced onion into the meat to add moisture, help bind the burgers together, and to add more of that wonderful onion flavor that makes venison taste so great!

Top Review by Kim127
The French onion dip was a really good topping for burgers. Of course the bacon didn't hurt either, lol. We did add some Swiss cheese as well. Grilled the burgers and served on some poppy seed bulkie rolls. Yummy dinner and DH was thrilled with burgers as usual. Thanks!
453.59

g lean ground chuck

4

hamburger buns (we like to use the onion rolls from our grocery store's bakery)

8

slice bacon (we love thick sliced, applewood smoked bacon)

113.39-226.79

g colby-monterey jack cheese, cut into thick slices (colby or mild cheddar also work well)

226.79

g French onion dip (fat free, or made with fat free sour cream is fine(the burgers have plenty of fat already, you won't)
Shape ground chuck into 4 patties.
Cook burgers ALMOST to your preferred doneness on the BBQ grill, grill pan, under the broiler, in a pan, or on your george foreman grill.
Top with cheese, continue to cook until the cheese is slightly melted.
Assemble burgers, spreading top and bottom half of the buns with the french onion dip, and topping each burger with two slices of the bacon.
You may want to have a little extra french onion dip for dipping your burger, as it tends to slide if you put too much on the bun, and you'll want plenty!
For a super sinful & greasy meal, serve with fries or onion rings. For a little healthier side dish, serve with a big salad with fresh tomatoes.