Bacon Cheeseburger Soup ( Paula Deen )
ChefDLH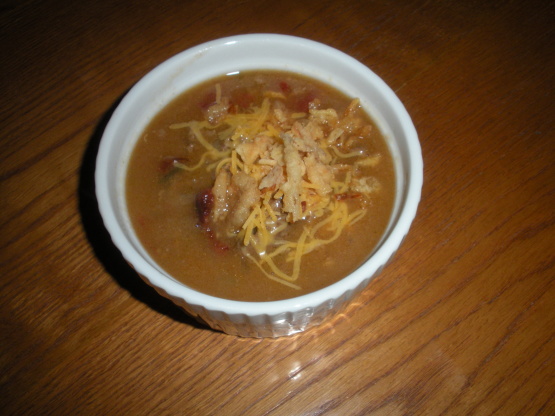 This recipe is from Cooking with Paula Deen magazine Nov/Dec 2009. This soup is warm and hearty. People of all ages loved it and it is a fast family supper. You can double it easily and freeze the second portion for later. It tastes more like a regular cheeseburger to me. I garnished mine with some cheddar cheese as well. Served with my Hamburger Bun Toasts recipe also from Paula Deen in that same issue that she used to accompany it. Hope you like it. Enjoy ChefDLH
In a large Dutch oven, cook bacon until crisp; remove from pan, and drain on paper towels.
Add ground chuck, onion, and garlic; cook for 6 to 8 minutes, or until beef is browned and crumbly. Drain well.
Add chicken broth, tomatoes, soup, relish, bacon and Worcestershire sauce.
Cook for 10 to 15 minutes, or until soup is heated through. Garnish with french-fried onions if desired.