Bacon Cheeseburger Macaroni
Parsley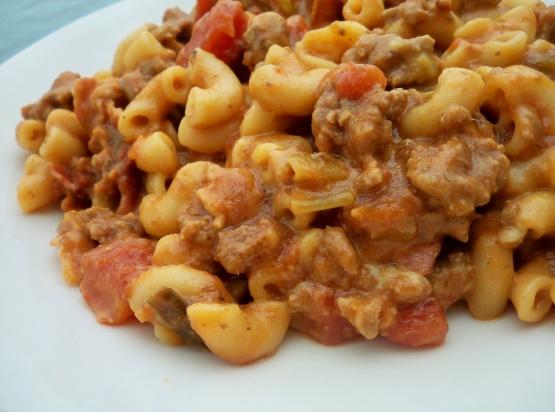 I came up with this combination after making Bacon Cheeseburger Tacos and having a lot of meat left (I didn't put all of it in the shells because only two of us were home at the time). I was afraid that I'd end up throwing out the meat so I decided to make Bacon Cheeseburger Macaroni. Hope you enjoy it as much as my family did!

We liked this dish. I had been struggling with trying to figure out what to make for supper and couldn't think of anything that uses ingredients I already had. And then I came across your recipe. This was quick and very easy to prepare. I made minor changes by tossing in a couple of pieces extra of the bacon, a tad more cheese and had to use white onion. Thank you for the recipe. I know I'll prepare it again.
Cook macaroni according to package directions. Keep warm.
In a large skillet, cook the diced bacon until crisp, pour off all but aboaut a half tablespoon of bacon grease.
Add ground beef and green onions and cook together until beef is thoroughly cooked through.
Stir in chili powder, salt, and liquid smoke and cook for about 5 minutes.
Add ketchup, mustard, and tomatoes and stir until well combined.
Stir in cooked macaroni and shredded cheese.
Cook over low heat for about 5 minutes until cheese is melted and everything is heated through.