Bacon Cheese Puff Appetizers
Rita1652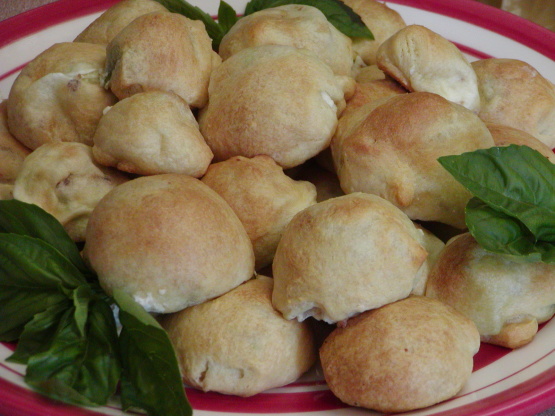 Melt in your mouth appetizers that keep you going back for more. You could probably even mix some cheese in this...really simple. Found this while looking for appetizers. Enjoy!

I suggest using two tubes of crescents instead of one. With one the filling over powers the breading because it is so thin, even though the filling is fantastic. This is preference. I also liked them when they had plenty of time to cool down (near room temp.).
Preheat the oven to 375*.
In a small bowl, mix all your ingredients well, except for the refrigerator roll dough.
Separate rolls into 4 rectangles and press the perforations to seal.
Cut in 1/2 lengthwise then crosswise to make 8 squares each.
Stretch slightly and with a spoon take a small amount of the filling.
Put it in the center of the square then seal around the filling to make a ball.
Place on lightly greased cookie sheet and bake 10 to 13 min or until lightly brown.