Bacon Cheese Breakfast Casserole
CandyTX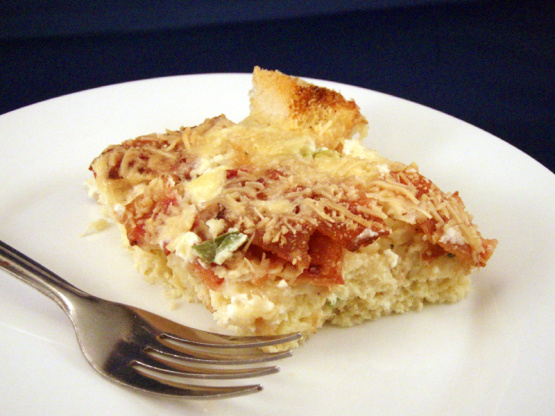 My brother made this for everyone the morning after Thanksgiving. Delicious served with a side of fruit salad or fried potatoes.

This was REALLY good. If we make it again, we will double the bacon - we didn't think there was enough in there, but we are both bacon fiends. I think you could play with this one a little, subbing any cooked lean meat such as ham or sausage - maybe add some cooked onions. BUT this is still great as written! Yum!
Spray 9x13 pan with cooking spray.
Cover bottom with bread, sprinkle with cheeses, bacon and scallions.
Beat together eggs through cayenne pepper until foamy. Pour over bread, cheese, bacon and scallion mixture.
Cover with foil and bake at 350°F for 20 minutes.
Remove foil and sprinkle with parmesan cheese.
Bake uncovered for 30 more minutes.