Bacon Cheddar Ranch Stuffed Baked Potatoes
teresas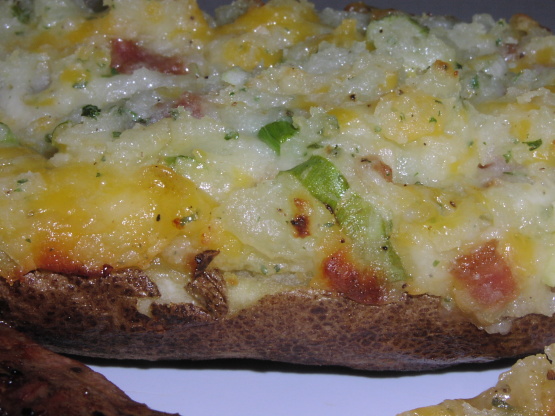 I've never had any other twice baked potato as good as these! To save time, I will "bake" my potatoes in the microwave for 20 minutes on high. Feel free to add anything you want to give them your own signature style. I use Sargento's Shredded Chipotle Cheddar when I can find it in the store. Broccoli or bleu cheese might be worth adding too!

I adjusted the amounts in order to serve just 2 people. I didn't used the bacon because I didn't have any on hand. I also added some extra garlic & onion powder to the mixture. My boyfriend LOVED these!!!! Definitely a keeper - thank you!
Cut each potato in half lengthwise; scoop out the pulp into a large mixing bowl, leaving a thin shell.
Stir butter into the pulp.
Stir in all the other ingredients until evenly distributed.
Spoon into potato shells.
Place on a baking sheet.
Bake at 375 degrees for 20 minutes or until heated through.