CandyTX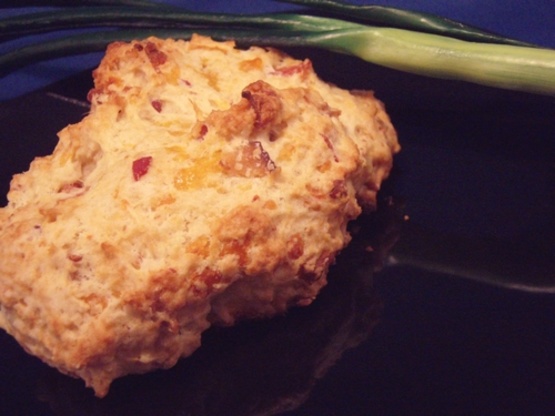 I made a full recipe of these tasty biscuits for our brunch today, added garlic powder = to 1 clove to the mix, brushed them lightly w/butter warm from the oven & then served them w/cheese scrambled eggs + fruit. I did have some issues in the prep when the finished dough seemed too crumbly & dry to me, so I also added 2 extra tbsp of buttermilk & all was fine. My dough was too lrg to get a 6x5 rectangle, but I did manage an 8x5 one & got 12 lrg biscuits. Fresh-snipped chives was another thot I had for a further add & I will prob try that next time. Thx for sharing this great recipe w/us.
Preheat oven to 450~.
Grease a large baking sheet.
Into a bowl combine flour, baking powder, sugar, baking soda, and salt.
Blend butter into flour with pastry cutter until mixture resembles meal.
Stir in bacon and cheese, then add buttermilk and stir until mixture just forms a dough.
Gather dough into a ball and on a lightly floured surface knead gently 8 times.
Pat out dough into a 6 X 5 inch rectangle.
Cut dough into 9 rectangles and arrange
about 1 inch apart on baking sheet.
Bake biscuits in middle of oven 15 minutes or until golden brown.