twissis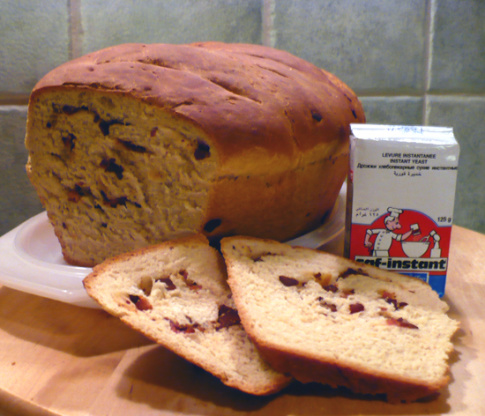 When you see bacon drippings as an ingredient, ya'll just know it's southern food. ;-) A stand mixer would be your new best friend when you make this easy, no-knead bread. Rising time is included in prep time.

Made yesterday for FTs *Prop It Up* photo challenge & the *Everyday is a Holiday* game - Oh my, SQ! This bread is so good & the recipe made a *huge* loaf as you can see in the 1st pic. You are prob the 1 person on this planet who knows well why I am so proud of my result (yeast-phobe that I am). I opted for the casserole vs loaf pans, made it exactly as written & froze 5 thick slices to have w/a soup starter for a Sat nite dinner party this wk. It is taste + texture perfect & made great toast this morning. I could not resist the whimsy of adding the boxed yeast to my pics & DH says TY for his birthday treat. :-) *Edited to Add* The bacon drippings? Not a prob for me. I can still recall my gramma frying chicken in a combo of lard + bacon fat & I have never had better fried chicken! :-)
Combine scalded milk, salt, 2 tablespoons of the brown sugar, and bacon drippings. Cool.
Combine yeast, 2 tablespoons brown sugar, and warmed water. When yeast mixture begins to foam, add to cooled milk mixture.
Add beaten egg, all purpose flour and whole wheat flour; beat for 3 minutes.
Cover and let rise for 45 minutes then stir in the bacon and beat for 2 minutes.
Pour into a greased 2-quart casserole or two glass loaf pans about 9 x 5 x 3-inches. Let rise until batter reaches top of pan(s), about 30 minutes.
Slash top diagonally a few times with a sharp knife. Bake at 375° for 35 to 40 minutes.