Bacon, Butter Beans,and Tomatoes
JCook4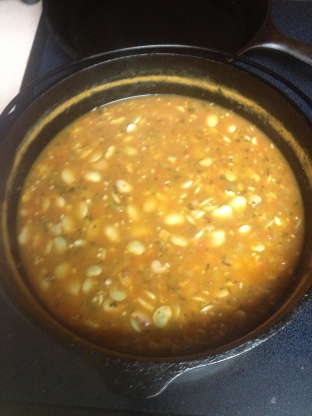 Southern Living. This is so wonderful with fresh butterbeans and fresh off the vine tomatoes. I serve this with other fresh garden veggies and cornbread. Great summer supper.

I added mushrooms when frying the onions. Later in the stewing stage, I added corn, slivered almonds, and a dash or two of creole seasoning. Good stuff!
Cook bacon in a Dutch oven until crisp.
Stir in onion and next 3 ingredients; saute until vegetables are tender.
Stir in tomato, and cook 3 minutes.
Stir in broth and butterbeans; bring to a boil.
Cover and reduce heat, and simmer, stirring occasionally, 30 minutes.
Simmer, uncovered 20 minutes stirring often.
Stir in parsley and remaining ingredients.
Cook stirring often, 5 minutes; discard bay leaf.