*Z*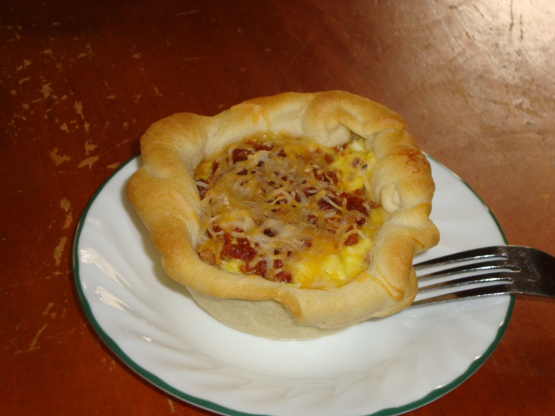 Recipe by *Z*
This recipe comes from a Pillsbury recipe card book. They are pretty easy to whip up. The original recipe says to make these in a Texas sized muffin tin but I don't have one so I used my smaller ramekins instead. It worked out just fine.

Made them this morning - pretty good! Kind of like a little personal quiche. I also don't have Texas muffin tins, so tried the ramekins as the poster, *Z*, suggested - worked fine. I used spray, but next time I'll prep the dishes with a bit of butter as directed to prevent the small amount of sticking I encountered. The eggs didn't finish setting up as much as I would have preferred, so next time I'll pre-cook them a little more. Instead of bacon, I used sausage and added a little diced onion also. You could use diced ham, chopped artichoke, or any other quiche ingredient, maybe even add a dash of dill weed. All kinds of possibilities! Since there are only two of us, the other two will be great for a quick microwave breakfast.
Heat oven to 375.
Lightly grease 4 Texas muffin cups.
Separate crescent rolls into 4 rectangles.
Lightly press or roll each into 6in squares.
Press 1 square into each of the greased muffin cups.
Fold over edges and crimp (like a pie crust).
Set aside.
In a medium bowl, beat eggs, whipping cream, and pepper until blended.
Set aside.
In a 10in skillet over medium heat, melt butter.
Cook bell pepper in butter 1-2 minutes until just tender.
Pour egg mixture into skillet.
Scramble eggs until about half are cooked through.
Immediately remove from heat.
Stir in half of the bacon and cheese.
Working quickly, spoon partially set eggs into muffin cups.
Top with remaining bacon and cheese.
Bake 17 minutes or until golden brown.
Cool 5 minutes.
Carefully remove souffles from cups.