Prep 10 mins
Cook 25 mins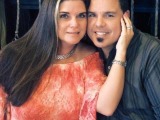 This recipe is courtesy of Southern Living Magazine, April 2007. You could lighten this up a bit by using reduced fat or turkey bacon; 1/3 less fat cream cheese; and low fat milk.
Directions
Cook pasta according to package directions; drain.
Keep warm.
Cook bacon according to package directions; drain well, and crumble.
Beat cream cheese, butter, and Italian seasoning in a medium-size microwave-safe bowl at low speed with an electric mixer until smooth.
Gradually add milk, beating until mixture is smooth.
Microwave cream cheese mixture at HIGH 3 minutes or until thoroughly heated, whisking every 30 seconds.
Add salt and pepper to taste.
Pour cream cheese mixture over warm pasta, tossing to coat.
Top with crumbled bacon and 1/2 cup grated Parmesan cheese.
Most Helpful
We really didn't care for this. I used 8 ounces of cream cheese, as it called for in the recipe, but it was very over-powering. After tasting it I added more pepper and parmesan, some garlic and onion powder and it was better. I don't think I'll make it again though.
I did lighten this a bit by using reduced-fat cream cheese and milk. The results were wonderful! The sauce is rich and creamy and the bacon really adds a great flavor. I'm always glad to find new pasta dishes without the usual ground beef. Thanx for great new one!

A very quick and easy weeknight meal. I made this with reduced fat cream cheese and skim milk. The bacon was the real thing. This was a very thin sauce. Served it over chicken/spinach ravioli. The cheese/butter sauce is very bland on it's own, but once the bacon, parmesan and lots of black pepper is added, it is transformed to a very delicious sauce.