Bacon, Blue Cheese Savory Cheesecake Kansas City Junior League
sepf16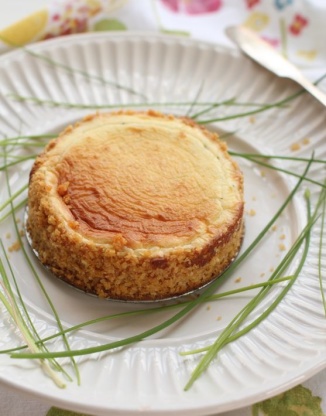 Search no further for something special to serve a crowd. Savory Cheesecake is stunning on a dark platter adorned with leafy greens. Serve with an assortment of crackers. This is from the Beyond Parsley cookbook put out by the Kansas City Junior League awhile back... Freezes well and can be halved!!
Sprinkle breadcrumbs and Parmesan cheese in a buttered water-tight-8 inch round springform pan. Set aside.
Combine cream cheese, eggs, and cream in mixer.
Saute bacon until crisp; drain and chop finely.
reserve 1 tablespoon drippings and saute onion until clear.
Add onion, bacon, blue cheese, salt, pepper, and Tabasco to cream cheese mixture.
Pour into a prepared pan. Set pan inside a larger one; pour boiling water 2 inches deep into larger pan.
Bake 1 hour and 40 minutes at 300 degrees.
Turn off oven and let "cake" set for 1 hour.
Remove pan from water and cool 2 hours.