Bacon and Tomato Deviled Eggs
Nimz1466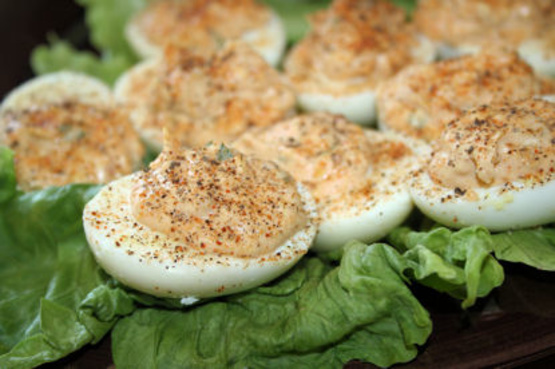 I have never liked the taste of cold emulsified fat like that in cold mayo based salads and such. I'm picky! But I created this recipe and it's wonderful. You can never go wrong with bacon and sour cream!

Loved these. The filling mixture was really tasty and very different. The only draw back I have is opening a 6 oz can of tomato paste for only 1 tablespoon. Guess I'll just have to make more to use the rest of it up. Thanks and congratulation on your football pool win.
Cut the eggs in half and remove the yolk keeping the white half completely intact. Place yolks in a separate little bowl.
In yet another bowl add your ranch dressing, sour cream, tomato paste, ground mustard, chopped parsley and bacon. Mix together with a whisk until smooth.
Add the egg yolks to your dressing mixture and incorperate with a folk until fully incorperated.
Place egg mixture in a plastic ziplock bag with a large tip on the end. (You can also just cut about a third of an inch off the bottom of the bag if you don't have a decorating tip.)Fill the egg white halves with the mixture, and then lightly sprinkle a pinch of creole seasoning and a crank of fresh ground pepper onto every filled half.
Chill in the fridge for about a half an hour and then serve.
If you wanna make a short cut just substitute the ranch dressing, sour cream, tomato paste and half the bacon for Kraft's Tomato Bacon Dressing. I've made it both ways and they are both wonderful.