Bacon and Swiss Scalloped Potatoes
This is not your usual scalloped potato recipe! Try it, you'll be glad you did!
Directions
Preheat oven to 350F and butter a 9x13 in casserole dish with 1 1/2 Tbsp butter.
Layer the bottom of the casserole dish with 1/3 of the potato slices. Sprinkle with salt and pepper. Layer on 1/2 of the sliced onions and 1/2 cup of the Swiss cheese. Layer on 1/2 of the bacon, 1/2 of the parsley.Sprinkle with a little of the Parmesan.
Repeat by layering on 1/3 of the potato slices, sprinkle again with salt and pepper. Layer on the remaining sliced onions, 1/2 cup of the Swiss cheese, the remaining bacon, parsley and sprinkle with Parmesean.
Top with the remaining potato slices. Add the half and half. Dot the potatoes with the remaining 1 1/2 Tbsp of butter.
Cover with aluminum foil and bake for one hour. Remove the foil and sprinkle on the remaining Swiss and Parmesean cheese. Return to the oven for an additional 40 minutes.
When done, the potatoes should be tender and liquid mostly absorbed.
Reviews
Most Helpful
These were positively the most fantastic scalloped potatoes I've had in a very long time. The Swiss cheese and bacon gave the potatoes t a nice flavor boost, and the half-and-half made it all so creamy and tender. I will definitely make this often. Thanks for another great recipe, sweetcakes. Made for Spring 2010 Pick-A-Chef.

I was looking for something new to serve on Easter Sunday, and this really filled the bill. I am used to making a white sauce for my scalloped potatoes, which can be more time-consuming. This was much easier. I used a combination of Swiss and Gruyere (and next time, I think I might throw in a little Cheddar to round it out). I also think you could add more bacon if you like. Believe it or not, these were really good when I was picking at leftovers hours later. I think I ate more then than I did at dinner! Thanks for posting this new twist on scalloped potatoes.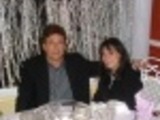 This was awesome! I never really ate scalloped potatoes because I had only had the ones from a box (and those are bad). This was a unique twist on scalloped potatoes using the swiss cheese in them. They had a good flavor, easy to put together. I made one change: I used fat free half-and-half. This is definitely a keeper! Made for Fall PAC 2009