Bacon and Swiss Au Gratin Potatoes
PanNan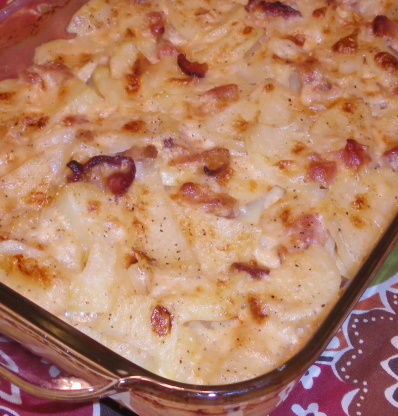 I was wanting to do something different with Au Gratin potatoes, and this is what came out of the dark regions of my brain ;).Cook time doesn't include the cooking of the bacon. And don't let the long list of instructions scare you, it's alot easier than it looks :). If you like you can leave the skins of the potatoes on.The 10 minute " rest " time is included in the prep time. Submitted to " ZAAR " on October 16, 2009.
In a small saucepan melt margarine,then add onion and cook until soft,at this time add flour.
Stir in the milk a little at a time until slightly thickened.
Add 1 cup of cheese,bacon,mustard, and cayenne pepper.
Stir until cheese is melted, if mixture seems to be too thick add a bit more milk to thin it out some.
In a lightly greased or sprayed 1 1/2 quart baking dish layer half of the potatoes, then sprinkle with half of the salt, pepper, and garlic powder.
Pour half of the cheese sauce over the potatoes and repeat with remaining ingredients, finishing with the cheese sauce.
Cover and bake for 45 minutes at 375 degrees remove cover, top with remaining 1/2 cup of swiss cheese and bake for another 15 to 20 minutes or until top is golden brown.
Let " rest " for 10 minutes, serve and ENJOY !