~Nimz~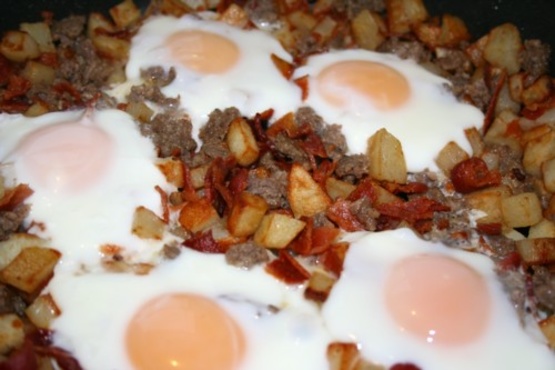 This kind of hash would in Finland be a weekeday evening meal. Very simple and fast, usually using previous day's leftovers.

Top Review by ~Nimz~
This was really good, however I didn't make as directed. I fried the bacon and sausage separately. Then fried the potatoes and when they were browned added the bacon and sausage back in. Left out the onion, personal preference. Then I made small holes to place the eggs in. Used additional eggs. Very nice, but next time will leave out the sausage as a personal preference. Thanks.
Peel the potatoes (if necessary) and chop into cubes. Chop the bacon and sausage.
Fry bacon and then onions in the bacon fat.
Add chopped sausage and fry until it's browned slightly, move to the side of the pan.
Fry the potatoes in the middle of the pan until brown, add white pepper. Mix everything.
Add in eggs, fry without stirring until the whites have solidified.
Serve with pickles.