Linajjac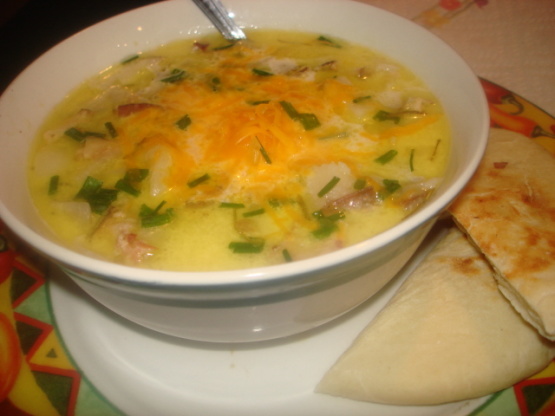 This is perfect on a rainy day or a fall evening. This is a typical French cream soup. The bacon adds a smoky flavor. If it is too thick for you, correct with additional cream or broth. This is courtesy of Patisserie Frederic.

Sooo good!! We really enjoyed this soup. The bacon gives a lot of flavor. We liked the addition of the spicy mustard. I wondered if that might be too many potatoes, but after you puree half the soup you have just the right amount of potato pieces in there. This was very easy to make. We will have this often this winter!! Thanks, Miss Annie for another keeper!
Cook bacon in a large stockpot over medium heat until crispy.
Add onion and cook 4-5 minutes, until tender.
Add salt and pepper, thyme sprig, rosemary sprigs, and bay leaf.
Add potatoes and garlic, and mix well with bacon and onions.
Add stock or water and bring to a boil.
Reduce heat and simmer for 20 minutes, or until potatoes are tender.
Add cream and mustard; stir to blend.
Remove bayleaf and purée about 1/2 of the soup in a blender.
Mix blended soup with the rest of the soup.
Adjust seasonings.
To serve, ladle soup into bowls and top with chopped scallions.