Bacon and Potato Scramble
Catnip46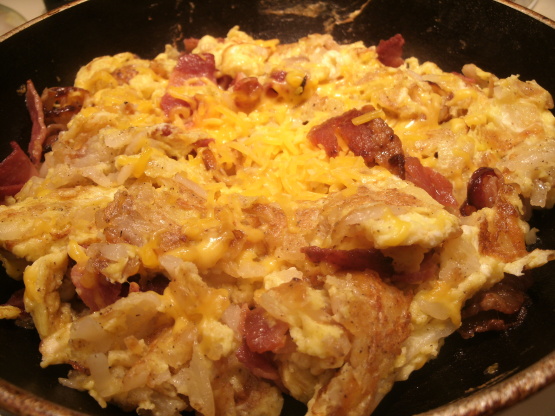 This could be thought of as a "one-pot breakfast".

I just finished eating this, and I must say it is really good. My hubby really loved it.. Don't really agree with the "one pot" unless you are going to grate your potatoes, and cheese directly into the skillet..or chop the onions in your hands..LOL I will make this again! Orchidga
Brown the bacon pieces in a skillet.
Remove the bacon from the pan using a slotted spoon.
Reserve.
Add the potatoes and onions to the pan.
Brown, stirring frequently.
Return the bacon pieces.
Add the eggs and scramble with the potatoes.
Top with the cheese and cover for 1 minute (or until melted).
Serve warm.