Bacon and Peanut Butter on Crispy Toast Appetizer
alligirl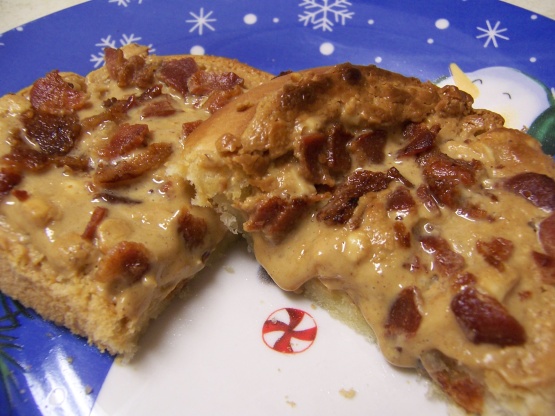 I have to say the first time my friend Mare made these little bundles of delight, I was skeptical! Now she makes them every time we go over because we LOVE them so much.

I grew up on this yummy stuff! We served it as a snack w/o the butter, but as they say, I'll bet butter makes it better! If you like salty peanuts, you will love this tasty treat!
Preheat oven to 425 degrees.
Remove the crust from the bread (or buy bread with the crust already removed).
Brush both sides of the bread slices with melted butter.
Spread peanut butter on each slice of bread.
Top with crumbled bacon.
Cut each slice of bread into 4 pieces.
Place bread quarter on a non-stick baking sheet.
Bake on the center rack in the oven for 8 to 10 minutes or until bread turns brown and toasty.
Serve and watch the reaction! Make sure you have copies of the recipe on hand to give out.