Nimz1466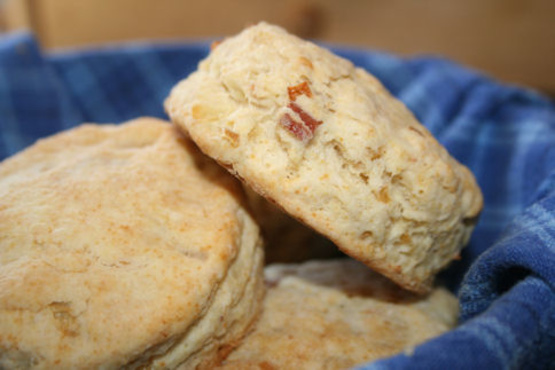 These are so good and simple to make.

Just wonderful little biscuits. I also made half the recipe and got 6 nice sized biscuit. I cooked these for 25 minutes at the stated 350, and they still didn't get as golden as I would have liked. Doesn't take away from the flavor though. I agree with Annacia. I'll probably cook mine at 400-425 next time. These will go so well with soups and stews this winter. thanks. Made for 1-2-3 Hit wonders.
In a skillet cook bacon and onion until bacon is slightly crisp and onion tender. Drain fat.
In a bowl mix dry ingredients together. Cut in butter. Add milk, bacons, and onion. Mix with fork until just combined.
Turn dough to lightly floured surface and knead several times until dough holds together.
Pat or roll dough to 3/4 inch thick. Cut dough with biscuit cutter and place on baking sheet. I also just drop biscuits into cupcake tins which is much quicker. Bake at 350 degrees for 15-20 minutes or until golden brown. Makes 12.