Bacon and Green Chile Quiche
diner524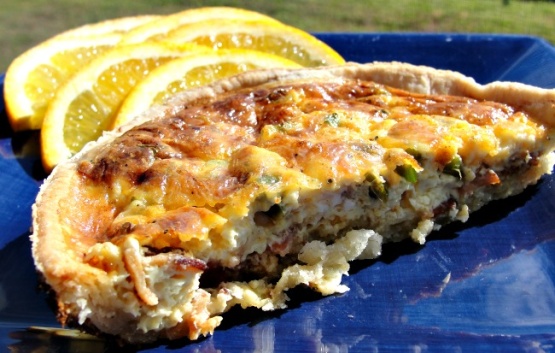 A refrigerated pie crust plus kitchen staples makes this a quick go-to recipe when you need to whip something up at a moment's notice. Recipe is from Bon Appetit.
Awesome quiche!!! I made 1/4 of the recipe and made my own pie crust (from "Small Batch Baking"). I used a mini pie pan, which is probably about a third of the size of a normal pie pan and made the quiche in one pan and then froze the other pie crust in the other pan for a later use. This is so full of flavor, with the bacon, peppers and cheese. I served it with some fresh orange slices, yummy!! Thanks for sharing the recipe. Made for you win in the Football Pool Game.
Preheat oven to 425 degrees F. Unfold crust. Using fingertips, press together any tears. Press crust into a 9-inch diameter deep dish glass pie dish. Press foil onto crust to hold shape. Bake 5 minutes. Remove from oven; remove foil. Reduce oven temperature to 400 degrees.
Cook bacon in a heavy skillet over medium-high heat until brown and crisp. Transfer to paper towels to drain. Crumble bacon. Sprinkle bacon, then chilies and green onions over crust. Mix cheeses together and sprinkle over. Whisk eggs, half and half, and salt in a medium bowl to blend; pour mixture into crust.
Bake quiche until knife inserted into center comes out clean, about 35 to 45 minutes. Let quiche stand 5 minutes. Cut into wedges.