Bacon and Eggs With Tomatoes and Mushrooms
Prep 10 mins
Cook 25 mins
From the Mystery food novel Food To Die For. In the novel/recipe book, this recipe is described as being a Classic English Breakfast. Even though it's not kosher, I'm hoping some one else will enjoy the recipe, although I did hear once that there was such a thing as fake bacon.
Directions
In a large skillet, melt the butter on medium high heat. Add the mushrooms and cook for 3 minutes, or until browned. Transfer the mushrooms to a plate and keep warm.
In the same pan, fry the bacon for 5 minutes, until crisp and brown, then transfer to a plate lined with paper towels. Pour off the drippings, before adding the sausages to the pan and cook over medium heat for 8 minutes, or until cooked through. Transfer ro a plate to drain.
Pour the fat from the skillet onto a separate dish, and return 1 tsp of the bacon fat to the skillet to use to fry the tomatoes for 3 minutes per side. Arrange the tomatoes on 2 breakfast plates.
Add 1 tbsp bacon fat to the skillet, fry the eggs over medium low heat to desired doneness. Arrange the eggs between the two plates.
In the same pan, quickly fry the bread slices for 1-2 minutes, until golden brown, adding more bacon fat, if necassary. Arrangethe hot bread slices, bacon, sausages, and mushrooms on the plates. Serve immediately.
Reviews
Most Helpful
This was a great breakfast (that I gave an Irish touch to, using Irish bacon and Irish sausages). It really cooked rather quickly, and produced a wonderful, hearty breakfast that is a lovely treat. I will definitely be making this again! Made for ZWT 8.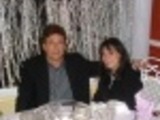 Ahh, the guilty guilty pleasure that is the English breakfast :) Always a delight... and kept us full for at least two meals! I can't imagine a trip to Great Britain without it. I did make a mini version for myself, but made as directed for those dining with me who have larger appetites. Thanks for sharing! ZWT8

Yummy breakfast! I have never even heard of frying bread in bacon grease, so had to give that a try. Very flavorful. I used a thickly sliced tomato because I didn't have any plum tomatoes, but made the recipe as directed other than that. Very good and very filling. Thanks Studentchef for a great breakfast. Made for ZWT8 - Great Britain.